"An Artful and Musical Chinese New Year" • Hampton Preschool,

Tanjong Pagar


---
Overview
Chinese New Year is one of the most important festivals for the Chinese. Leading up to the Chinese New Year celebrations and on the actual day, Hampton Preschool@Tanjong Pagar planned a series of music, dance and art-related activities to create an awareness of Chinese customs and traditions in a fun and meaningful way.
Children were given opportunities to:
Create art and music and movement related to Chinese New Year;
Discover songs and musical instruments that are associated with Chinese New Year; and
Collaborate with other children to put up performances.
Learning and Performing Chinese New Year Songs 
Two to three weeks before the centre's Chinese New Year celebrations, the children were introduced to various popular Chinese New Year songs during Circle Time and Class Meeting Time. The introduction of the songs provided a natural context for children to be more familiar with the celebration of Chinese New Year. Each class was then introduced to the lyrics of the song that they would be performing.
To help children better understand the lyrics and meaning of the song, teachers made use of lyric charts, and related pictures and videos for specific keywords. These videos and pictures aided children in coming up with appropriate actions for their song performance, with guidance from their teachers. On the day of the centre's celebrations, the children proudly performed the songs that they had learnt before their parents who had come to support them!

N1 children performed
《恭喜恭喜》with rhythm sticks

N2 children performed
《爆竹一声大地 响》while holding up Chinese New Year greetings they had learnt.


K2 children performing
《 Mr.旺》with a dance they had choreographed themselves.
Learning and Performing Lion Dance
The children were introduced to Lion Dance and learnt that it is often performed during Chinese New Year as it is thought to bring good luck and prosperity. To provide the children with an authentic and memorable experience, they were tasked to put up a lion dance performance for the Chinese New Year celebration. The children watched a video that showed the common Lion Dance movements and musical instruments that are usually used to accompany the dance. They observed that the gong, cymbals and drums were used, and realised that the gong and cymbals produce loud and sustained sounds. Thus, they suggested using fewer sounds from the gong and cymbals for their performance so that the other percussion instruments can be heard clearly.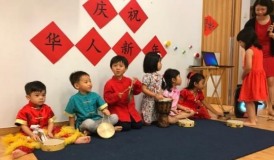 Children played percussion instruments to accompany the lion dance performance
After choosing their percussion instruments, the children took turns to suggest different rhythms they could play to accompany the lion dance. With the teacher's guidance, they selected four main rhythms to play together as a group. Through watching another video, the children observed that each "Lion" has to be played by two performers. Based on the actions that they observed in the video, they improvised and designed four actions which two of their schoolmates could perform as the lion:
1. Walking onto the stage;
2. Chasing its tail;
3. Walking towards oranges curiously; and
4. Eating the oranges.
The children performed the Lion Dance at the celebrations, and it was very well-received by the parents who came. Through these activities, children became more aware of a variety of music and dance performances associated with Chinese New Year. The lion dance provided the children with the opportunity to explore different traditional percussion instruments and use elements of music and rhythm, in their performance. Furthermore, in working cooperatively together in their rehearsals and the performance, children learnt to pay close attention to one another and cooperate well in order to make music together. This not only taught them the importance of teamwork, but also perseverance in completing a task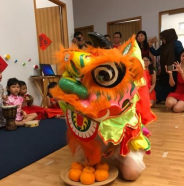 Children put up a Lion Dance performance.
You may view a video of the Lion Dance performed by the children
here
.
Creating Chinese New Year Decorations
On the day of celebrations, the children and parents worked together to create Chinese New Year decorations. Different activities were carefully planned for the various age groups so as to ensure that the tasks were developmentally appropriate and engaging for the children. The range of activities provided children with the opportunity to create artworks using a variety of tools and techniques. These activities also gave opportunities for parents to bond with their children.
| | |
| --- | --- |
| | The Pre-Nursery children made fans using paper plates. The children either helped to paint the paper plates red or pasted red materials on it. Parents helped to make the decorated plates into fans. |
| | The Nursery 1 children created the head of a dragon using a variety of materials, such as tissue paper rolls and crepe paper. Parent volunteers guided them in the steps in creating their artwork. |
| | After the Nursery 2 children had listened to the story about Nian, a dragon in Chinese mythology, they were given various art materials, such as pompom balls, sequins, pens and coloured paper to create their own paper dragon. They discussed with their parents how they wanted to decorate their dragon, and they worked together |
| | The Kindergarten 1 children designed Chinese New Year greeting cards with thick red paper and markers. They were provided with several sample pictures from the Internet and greetings. They then handed them to their friends or family members. This provided the children with the opportunities to interact with their friends and family as they actively participated in the Chinese New Year practice of exchanging well-wishes. |
| | The Kindergarten 2 children tried out Chinese Calligraphy with ink and Chinese paintbrushes which they had previously used before. Teacher showcased how to write the Chinese character "福", which means fortune, on red paper. Children later practice this word by their own on red paper. Through these art activities, children were able to create 2D and 3D artwork using Chinese New Year decorations as the context. Creating the decorations also provided a natural avenue for the children to learn more about colour, not just as an element of art, but also what it symbolises in traditional Chinese culture. |
Summary
It was a very successful Chinese New Year celebration. The children were observed to enjoy the preparation and performance of their musical and dance items. They were also enthusiastic in participating in the art and craft activities. In addition, they also gained greater awareness about Chinese customs and traditions, which is an important aspect of learning their Mother Tongue. Parents shared positive feedback about this Chinese New Year celebration and they enjoyed participating in the bonding activities with their children.
Contributed by:
Veron Law, Tang Qing, Lin Lin & Adelyn Goh
Hampton Preschool, Tanjong Pagar