"Speech Choir" • PCF Sparkletots Preschool @ Nanyang Blk 922


---
Speech choir allows children to recite a verse, story or rhyme in unison with elements of choreography. Through this speech choir experience where children perform as a group, it helps to bring the text alive for the children. as they perform it as a group.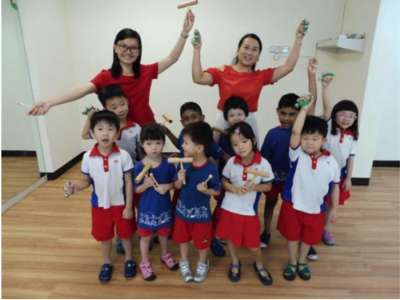 Objectives of using Speech Choir

Children
• Improve their oral skills e.g. pitch, tone, volume, pace, diction and enunciation
• Work as a team towards a common goal
• Develop confidence

Teachers
• Trained on the use of 'Speech Choir' as an instructional strategy
• Equipped with skills to carry out lessons using 'Speech Choir'



The Speech Choir Experience – 1. Getting teachers ready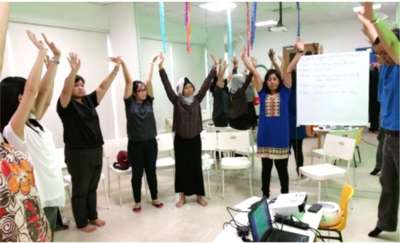 Before implementing the Speech Choir experience for the children, the teachers attended a customised workshop to learn the necessary techniques (e.g. breathing techniques, proper posture for better voice projection, proper cues to be given to the children as they conduct a speech choir).
After the workshop, the teachers brainstormed how Speech Choir could be used to enhance children's learning experiences. The team also chose stories/ poems/ rhymes for each class level. These were chosen based on what the children enjoyed and the topic that the children were learning about.
The Speech Choir Experience – 2. Familiarising children with the text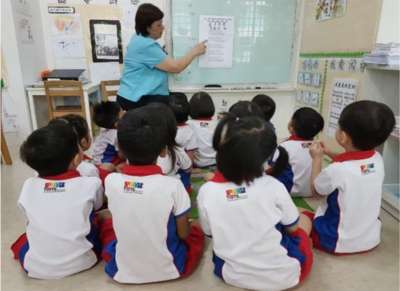 The children were first introduced to the story/poem/ rhyme. Next, the teachers helped children to remember the story/poem/rhyme by reciting it many times in different ways.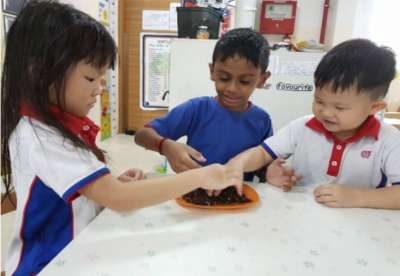 To help the children better understand and relate to the chosen text, they were given opportunities to explore with authentic materials. For example, where the word "mud" is mentioned in the story "We're Going on a Bear Hunt", the children played and explored the texture and properties of mud.
The Speech Choir Experience – 3. Choreographing the performance
Involving children in the choreography process helped them to feel a greater sense of ownership in their performance.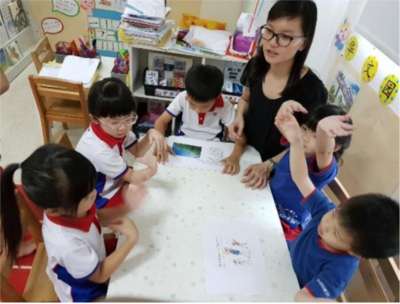 The children decided on the actions for certain words in the story/poem/rhyme. These actions formed the choreography for the final Speech Choir performance.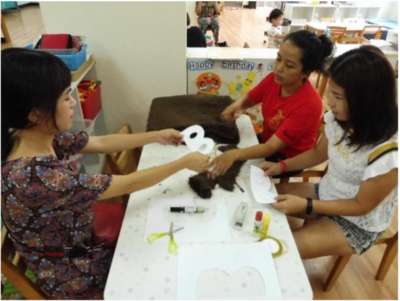 Parents were invited to make props for the Speech Choir performance with their
children at home which also helped to facilitate parent-child bonding.
The children practised their parts in the performance with the teacher so that their speech recitation and choreography would be well-coordinated.
The Speech Choir Experience – 4. The performance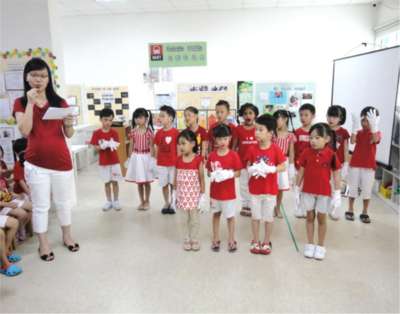 Parents were invited to watch the children's Speech Choir performances. The children had fun and enjoyed their performances. Parents gave positive feedback and shared that they had observed that their children had developed through the Speech Choir Experience.
The Speech Choir Experience
An opportunity for children to:

gain confidence in speaking and communicating as a group before an audience
work cooperatively with one another towards a common goal
A new strategy which teachers can use to enhance children's learning
Contributed by:
Noorhayati Zahari; Chai Irene; Tan Bee Geok, Sally; Teoh Yiling
PCF SPARKLETOTS PRESCHOOL @ NANYANG BLK 922 (CC)