"DreamBig Playgound: Inclusion Starts with Me" •
MOE
Kindergarten @ Tampines
---
DreamBig Playgrounds: Inclusion Starts with Me is a community project initiated by the observations made and the questions asked by our curious Kindergarten 1 children.
Our children often play in the playground outside the Kindergarten while waiting to be picked up after school. The project began when the children noted that there were some elderly people on wheelchairs in the neighbourhood. As the playground is, for all of them, a special place, they began to question how children with disabilities could have as much fun as they have in the playground. The children asked, "What if we create a special playground outside our school, so that everyone can come here to play and have fun?"
To pique the children's interest, the teachers brought the children through various activities, with Ms Sarah Lee, one of our Family Support Group members, providing support in some of these activities. Over the course of the following month, our children were engaged in experiential activities during class and went on learning journeys to visit different typical and inclusive playgrounds around Singapore where they tried out different kinds of play equipment. They discussed how certain play equipment could be made more user-friendly so that children with disabilities could enjoy time out in the playgrounds as well.
It has been a goal of ours to develop our children to be future advocates for a more inclusive Singapore, to encourage and inspire them to develop a mindset to initiate changes that may impact lives.
Exploring to Learn
The teacher sourced for some videos available online to support children's exploration and these provoked the children to find out more about: (1) How a friend with disabilities would perform daily tasks like going to school, brushing their teeth, eating snacks and playing games with their friends, and (2) How to change a playground so that friends with disabilities could join in.
To help deepen their understanding, the teachers planned for the children, mini experiential activities to simulate daily activities without the use of various body parts.
| | | |
| --- | --- | --- |
| "How can we brush our teeth without our hands?" | "Let's try to write our names using only our feet." | Children attempt to transport a beanbag using only their feet. |
Children experienced dining
while being blindfolded.

Each child was assigned a "sighted buddy"
to ensure safety
After watching the videos of the Paralympics Games, the children experienced "Wheelchair Basketball" and "Sitting Volleyball". Quoits were placed on the children's laps which restricted them to remain seated on their "wheelchair". These enabled the children to experience the limitations in movement and the strength needed for those who are wheelchair-bound to play games requiring speed and movement.
Investigating Playgrounds
To extend our children's knowledge about the different types of play equipment and spaces, the teachers planned field trips to some playgrounds in Singapore like Canberra Park, an inclusive playground open to all including the wheelchair users, people who are visually handicapped, and the elderly. They also visited the Bishan-Ang Mo Kio Park which has a typical children playground and is popular for being a recreational park for families to enjoy nature and the waterways. The last play space they visited was the Battleship Playground in Sembawang Park, a maritime-themed playground. There was rich learning for the children.
| | |
| --- | --- |
| "The buttons are at the right height for them to press!" | Children had an opportunity to play on the Aeroglider and there are slopes for easy mobility. |
Designers in Action
Together with their teachers, the children learnt more about inclusive physical spaces from an invited guest speaker, a social entrepreneur in assistive technology. They learnt about the challenges faced by children with disabilities and how they cope in typical physical environments. Working in groups, the children discussed and applied what they had learnt. Using materials in the recycling basket, they made models of what they felt play equipment in an inclusive playground would look like.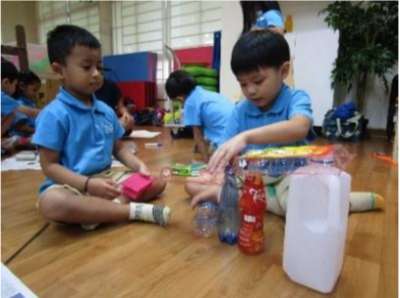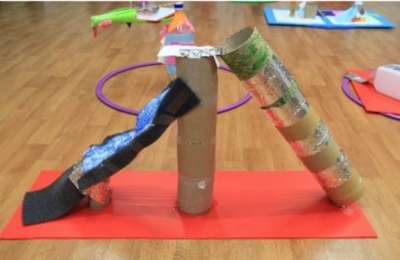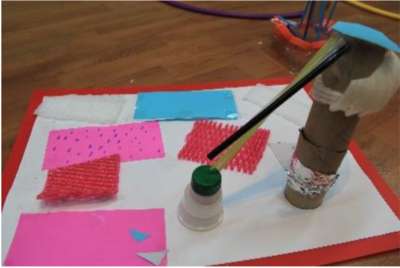 The children had a fun time making 3D models of play equipment from recycled materials
Sharing our Ideas
The children were then given the opportunity to share the models of their playground equipment with their families during the Kindergarten's Parents' Tea Session and with members of the community as part of Early Childhood Development Agency (ECDA)'s Start Small Dream Big 2016 (SSDB)1 project presentations.
Children explaining their project to their parents.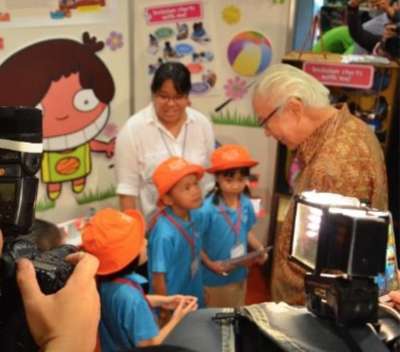 Children sharing with President Dr Tony Tan Keng Yam at the SSDB 2016 presentation
[1]
Start Small Dream Big was initiated and launched in 2015 by the Early Childhood Development Agency (ECDA) "to encourage pre-schools to create authentic platforms for children to innovate, problem-solve and tap their unique strengths to help others".