"Designing Our Outdoor Play Space" • MOE Kindergarten @
Punggol Green
---
Overview
After a learning activity where the children explored the importance of exercise, the K1 children from Cinnamon (AM) class, were keen to create an outdoor play space where they could run, jump and crawl to keep fit and healthy. Thus, they started on a project to plan and design their own obstacle course as part of the playground. In the initial phase of the project, the children demonstrated inventiveness as they explored and tried different ways to use the various types of equipment to find out which were the ones that worked best for different motor skills, such as jumping, hopping and crawling, amongst other skills. They were also willing to try out new and different ways in designing their outdoor play space. The children also demonstrated perseverance as they continued to search for different equipment and space designs when their initial ideas did not work well. Through this project, children were given opportunities to:
- Practice gross motor skills like jumping, hopping and crawling
- Talk about their experiences and observations in creating their obstacle course
- Work together with their friends to design and set up an obstacle course
- Demonstrate the learning dispositions of inventiveness and perseverance
Learning Dispositions
Learning dispositions are positive behaviours and attitudes towards learning. Two of the learning dispositions recommended in the NEL Framework are Perseverance and Inventiveness. Children with perseverance keep working at a task to complete it, and do not give up even when it is challenging for them. Children with inventiveness show flexibility in their thinking and try different ways of finding solutions by exploring new ideas and possibilities.
Stages of Activity

Phase One – Planning the Obstacle Course:
The teacher held discussions with the children to find out what experiences they had with obstacle courses. Children explored how to create a mini obstacle course in their classroom using small foam blocks. They tried to clear the obstacle course and discussed what worked and what did not. The teacher facilitated the children's reflection and discussion with questions such as, "Why was it difficult to jump over the block?", "Is there enough space in between the blocks?", "How do you know which block to jump over? Is there a difference?" to help children solve problems among themselves. Children responded by saying, "We put the blocks too close to each other. When we jump, we knock over the blocks." "There were too many blocks. Must spread out." "The circle blocks are to walk zigzag. The square blocks are for us to jump over. Maybe can stack up higher so people know." Through this, children were guided in their initial conceptualisation, which helped in their subsequent design and construction of the obstacle course.
Phase Two – Developing the Obstacle Course:
Children explored with concrete materials such as hula-hoops, cones, rubber tyres, tunnels and balancing beams, that they will be using for the actual obstacle course. They decided on the type of objects that were to be used for hopping, jumping over, balancing and other gross motor movements. After many rounds of setting up the obstacle course, they discussed and negotiated on a final design and play plan that worked well. They drew a picture of their design and plan that helped them remember how to set up the obstacle course.

Phase Three – Setting Up the Obstacle Course: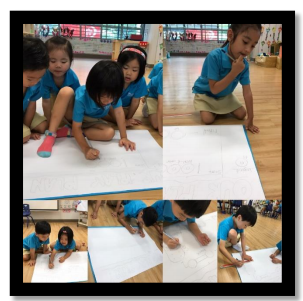 The children set up the obstacle course in the outdoor space according to their plan. They arranged the tyres, hula hoops, cones, balancing beam and tunnels. One of the challenges that the children faced was to move the heavy tyres and play equipment. It required them to repeatedly find ways to move the equipment easily, such as rolling the tyres instead of carrying them. The children did not give up even when they were tired and they continued to work together to finish what they had started. At the end of the project, the teacher gathered feedback from the children on how they felt in the whole process of setting up their own obstacle course. The children felt that they learned how to listen to their friends and work cooperatively with one another in order to get the task done.

Our Play Experience 
Time to play!
After the children worked together to successfully set up the obstacle course, they played the obstacle course numerous times. Their play experiences also led them to modify the obstacle course further to challenge themselves. For example, instead of crawling through the tunnel, the children wanted to try out new ways of using the tunnel, such as climbing on, balancing on and jumping off from the tunnel. They also took pride when they saw children from other classes playing the obstacle course.


Conclusion
Here are some of the children's thoughts on how they felt throughout the entire process:
Saerius: It is not easy to think of how to use some of the things. Like maybe you think you can walk on the tyre but actually you must step into the tyre then more stable.
Tiffany: I like to draw the play plan. It was fun moving the tunnel but it was too heavy to do alone so we did it together.
Qhalyf: The tyres so heavy but I can lift it up and roll.
Charmaine: At first, I argued with my friend because we cannot decide where to put the cones. But then, we say let's try and then it was hard to walk around because there were too many cones. Then we took out some cones and it was so much easier to walk (zigzag).
In summary, this project helped children to develop positive attitudes towards learning through their experience in planning and setting up an obstacle course. Through this experience, children generated ideas, problem-solved, worked collaboratively with their peers, and demonstrated their roles as active contributors and confident learners.
Contributed by:
Lenny Haslinda, Teacher,
MOE Kindergarten @ Punggol Green