What is it?
Recognising and using simple relationships and patterns

Using numbers in daily experiences

Recognising and using basic shapes and simple spatial concepts in daily experiences



Find out more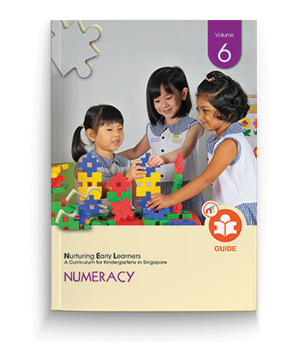 Why is it important?
Helps children make sense of their daily encounters that involve numeracy concepts and skills at home, in school and in the community

Lays the foundation for future development of mathematical concepts and skills



Find out more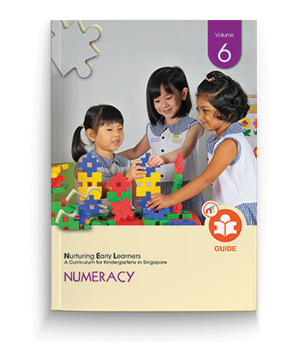 Photo Story 1


What is number sense?
Number sense goes beyond knowing number names and counting. It includes the concept of quantity, "more" and "less", conservation of quantity and part-whole relationships.
Find out how you can make use of manipulatives and everyday objects to develop number sense in your children.
You may want to refer to the Nurturing Early Learners (NEL) Educators' Guide, Volume 6 pp. 5 to 13, for more information on Numeracy in the early years.
Photo Story 2
Developing Numeracy concepts and skills through questioning and language modelling during routines and transitions
Daily routines and transitions provide authentic settings for children to know and apply Numeracy concepts and skills as they think and talk through the experiences they encounter. Teachers can support children's numeracy development by intentionally asking questions and using numbers and numeracy concepts in their verbal interactions with the children. How can we as teachers use questioning and language modelling in everyday routines and transitions to encourage children to use numbers and numeracy concepts and skills on a daily basis?