"Malay Culture – Dikir Barat"•
PCF Sparkletots Preschool @ Yew Tee Blk 682


---
Overview
Would you like your children to learn more about the Malay Culture through music? How about giving your children opportunities to perform in front of their friends?

Why not use Dikir Barat to achieve all that? Dikir Barat originated in the Malay Peninsula and is a popular music genre that is associated with the Malay Culture. It generally features a solo voice with a chorus and can be accompanied with percussion instruments. Here's a lesson idea that involves children learning more about the Malay Culture through Dikir Barat.
Learning Areas
Learning Goals

Aesthetics and Creative Expression (A&C)


LG3: Create art and music and movement using experimentation and imagination

LG4: Share ideas and feelings

Social and Emotional Development (SED)

LG4: Communicate, interact and build relationships with others


Learning Objectives

Children will be given opportunities to:
Talk about their ideas and feelings about a Malay cultural performance
Work together to create a Dikir Barat performance
#1 Finding out more about Dikir Darat
1. Show photographs and videos of Dikir Barat groups performing
2. Encourage the children to talk about what they observed in the photographs and videos, for example, the movements and instruments used in Dikir Barat.
| | |
| --- | --- |
| Showing photographs of Dikir Barat groups | Watching videos to find out more about Dikir Barat |
#2 Getting involved with the music used for Dikir Barat
1. Nursery rhymes and local songs can also be used for Dikir Barat performance. This would require some changes made to the rhythm of the lyrics. Involve the children in deciding on the song(s) for their Dikir Barat performance,
Examples of nursery rhymes and local songs that can be used:
Twinkle Twinkle Little Star
Alphabet song
Geylang Sipaku Geylang
Wau Bulan
Going through the song, accompanied by clapping.
#3 Creating hand movements for Dikir Barat
Get the children to create their own hand movements to accompany the music.
Have the children work in small groups
Facilitate the children's discussion and give feedback on their ideas
How can you facilitate this group work in your classroom?

You could:
Give the children ideas on the different hand movements they can use

Encourage children to improvise the hand movements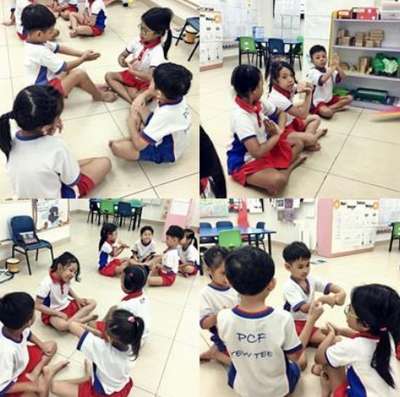 Engage children in small groups as they create their hand movements
#4 Performing their Dikir Barat
Get children to showcase their talent by performing their
Dikir Barat
in front of family and friends!
Children performing their Dikir Barat
Give the children opportunities to share their thoughts and feelings about their performance, for example, the difficulties they faced and parts they enjoyed the most.
This lesson idea was contributed by PCF Sparkletots Preschool @ Yew Tee Blk 682