"Fighting Junk Food" • MOE Kindergarten @ Punggol View
---
In this Weeks of Wonder (WoW) project, children did an in-depth investigation to find out more about healthy snacks. The project stemmed from the children's concerns about their unhealthy snack choices. They then wondered how they could change their eating habits. The children conducted their WoW project in three phases: During the 'I Wonder' phase, the children brainstormed on what they wanted to find out about healthy snacks. Then they started to gather information from various sources to answer their questions during the 'I Find Out' phase before sharing their findings with others in the 'I Know' phase.
Learning Objectives
Children were given opportunities to:
 Find out more about the importance of healthy eating habits
 Identify healthy snacks
 Share their experience on making healthier snack choices with others
I WONDER....
After a field trip to Health Zone at the Health Promotion Board, the children discovered that some of their favourite food were unhealthy. They were concerned about their unhealthy diet and wondered how they could change their eating habits. The children brainstormed on what they would like to find out about healthy eating habits, and came up with questions such as, "Why is junk food bad for us?" , "What can I eat when I am hungry?" and "What food is better than potato chips?" They were then led to think about ways of finding answers to their questions. The teacher then facilitated a class discussion for the children to think of and consider ways for them to gather information to answer their questions.
I FIND OUT......
The children were given opportunities to develop their understanding of healthy eating habits as they looked for information related to their questions. They explored a variety of resources to find out more about junk food. First, they watched the video, "The Berenstain Bears And Too Much Junk Food". Through the video, the children learnt about obesity and other illnesses that are caused by unhealthy diets. Then they went on a field trip to a supermarket where they gathered information about their favourite snacks and looked for healthier snack choices. Using the photos taken at the supermarket, the children had a group discussion of their favourite snacks and the range of healthy snacks available after the filed trip.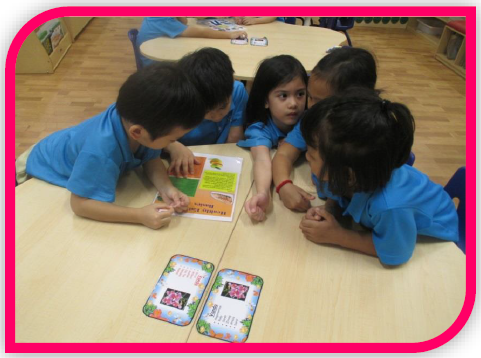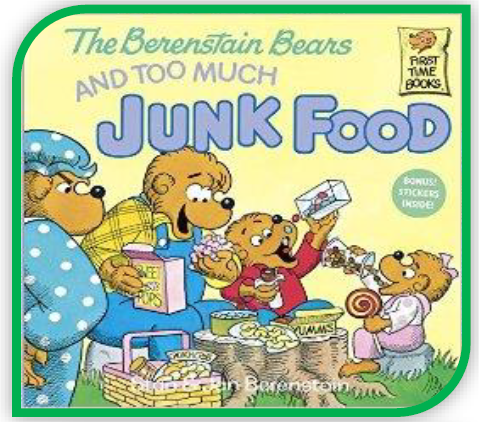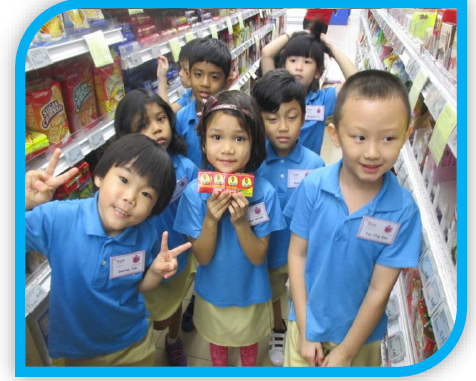 I KNOW.....
Children consolidated their learning by conducting a mini workshop, "Fighting Junk Food" for the K1 children. The workshop activities included a story telling session, game and song. They told the story of "Cool Cucumber and Fat Fries", which they created themselves. The story is about the character Cool Cucumber who tried to encourage his best friend, Fat Fries to have a healthy lifestyle by eating less junk food and doing more exercise. The children also created their own version of the 'snakes and ladders' game to introduce types of healthy snack. They played the game with their K1 friends who learnt to identify healthy snacks and eating habits from the game. The children ended their mini workshop by singing a song to raise awareness about the benefits of eating vegetables.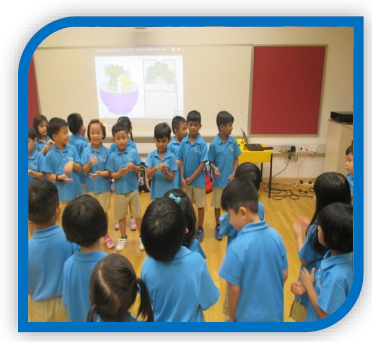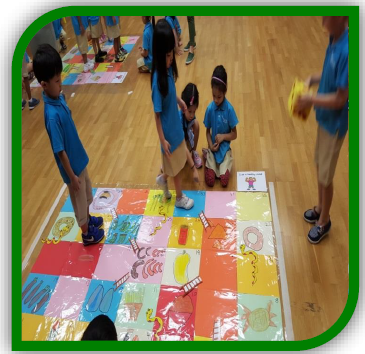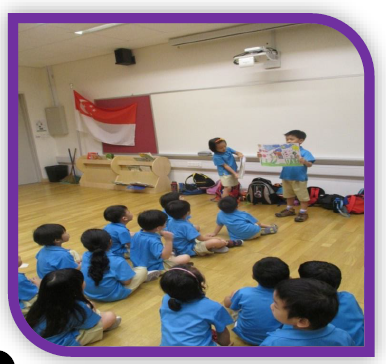 Conclusion
Children learnt the importance of healthy eating habits and the relationship between eating healthy food and maintaining a healthy body through this WoW project. The different activities created health awareness in the children and motivated them to make healthier snack choices in maintaining a healthy lifestyle.
Contributed by:
Teacher Sharifah Nooraishah, MOE Kindergarten @ Punggol View